415 - The Benefactor Factor

Aired February 10, 2011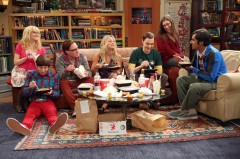 The guys attend a university fundraiser where a wealthy donor takes an intimate interest in Leonard, forcing him to consider far he is willing to go for science.
Rate this episode:
Guest Stars: Jessica Walter as Mrs. Latham, Joshua Malina as President Siebert
Writers: Bill Prady (Story), Lee Aronsohn (Story), Dave Goetsch (Story), Chuck Lorre (Teleplay), Eric Kaplan (Teleplay), Steve Holland (Teleplay)
Director: Mark Cendrowski
Viewers: 12.78 million Households Rating: 7.6/12 Adults 18-49 Rating: 3.9/11
Notes
The title refers to the factor that influences the university benefactor, Mrs. Latham's decision to donate money to Leonard's cause.
Quotes (10)
Penny: Good morning, slut!
Leonard: What?
Penny: Oh, please! I recognise the walk of shame when I see it. All you're missing is a little smeared mascara and a purse with panties wadded up in it!
Sheldon: Given how much time you spend engaging in pointless self-abuse, you might consider, just this once, using your genitalia to actually accomplish something.
Sheldon: You seem to have forgotten the reason we live together is that we're best friends. And I've got your back, Jack.
Sheldon: An entire dinner to talk about your research? Where you going? The drive thru at Jack In The Box?
Amy: Well then, prepare to be terrified. If your friends are unconvincing, this year's donations might go to, say, the Geology department.
Sheldon: Oh no. Not the dirt people!
Amy: Or, worse still, it could go to the liberal arts.
Sheldon: No!
Amy: Millions of dollars being showered on poets, literary theorists and students of gender studies.
Sheldon: Oh, the humanities!
Character Clothing from the Episode
Discuss this episode on our Big Bang Theory discussion forums